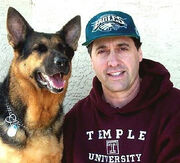 Steve Alten (born August 21, 1959) is the creator and writer of the Meg Saga. Alten holds a bachelor's degree from Pennsylvania State University, a master's in sports medicine from the University of Delaware and a doctorate in sports administration from Temple University. Alten is the founder and director of Adopt-An-Author, a nationwide secondary school reading program promoting works from six authors, including his own. Alten resides in South Florida.
Some critics have pointed out that Alten's books feature poorly researched science and weak writing, while others have praised his character development, research and story-telling. Reviewer Steve Donoghue calls Alten's latest Meg novel (Meg: Hell's Aquarium) "the Moby Dick of giant killer shark novels." Reviewer Jason Frost said of Alten's Grim Reaper: End of Days, "This will not be one of the best books you will read this year. This will be one of the best books you will read, period." Mystery Book Review said of The Loch, "The blending of factual and fictional material as crafted by Alten for the book is both fascinating and credible." Paul Craig Roberts, former Wall Street Journal editor said of Alten's thriller, The Shell Game, "Alten's book is a first-class thriller set in the real world of today. It is a perfect read for Americans who need their dose of reality to be watered down with fiction and delivered as entertainment."
Domain (2001)
Resurrection (2004)
Phobos: Mayan Fear (2011)
Goliath (2002)
The Loch (2005)
The Shell Game (2008)
Grim Reaper: End of Days (2010)
Meg was originally optioned by Disney's Hollywood Pictures in 1996 without a film being made. Next, New Line showed interest in the topic, but again no film was realized.
In a 2008 interview producer Belle Avery spoke about doing preliminary work on film based on The Loch.
Community content is available under
CC-BY-SA
unless otherwise noted.